Construction Timesheet App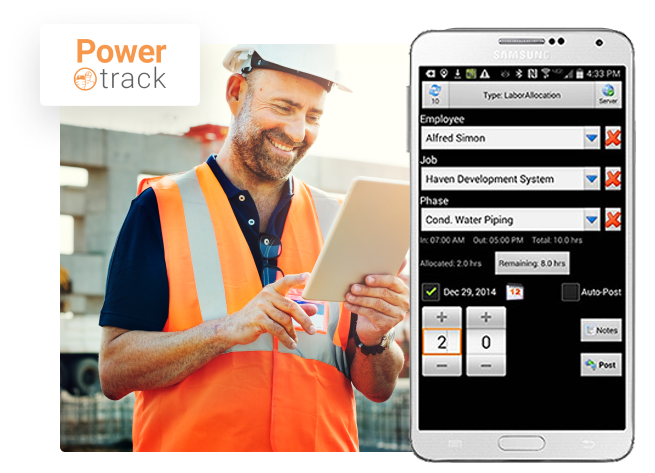 Mobile Construction Time Tracking
Automate Daily Timesheet Reporting for Your Construction Business with Leading Time Tracking Software
Eliminate headaches associated with paper timesheets including late time submittals from construction workers, lost time, missing information and error-prone timesheets due to manual data entry. There is a better way for your construction and field crews to submit their time and other daily reporting from job sites—using their smartphones, tablets and laptops. PowerTrack's mobile construction time tracking software provides project managers and office personnel with accurate timesheets and daily visibility of job labor while eliminating the need for office key entry.
Quickly record employee time and subcontractor job site clock-ins and outs, ensuring accurate time data and labor costs for an individual or an entire crew at once. Use your existing mobile devices or upgrade to biometric (fingerprint reading) or badging solutions for increased accountability of employee time tracking.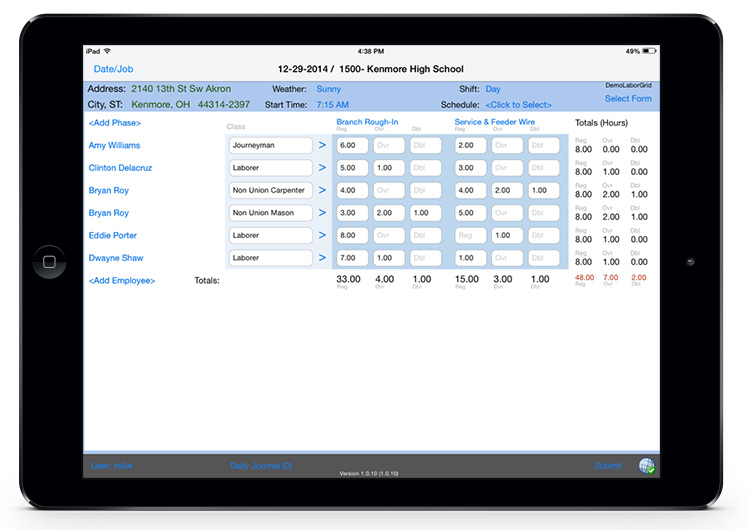 Apply Time Durations to Jobs and Cost Codes
PowerTrack's construction timesheet software will present the user with filtered lists of active jobs and valid cost codes to apply time for labor entry and project costing. PowerTrack applications leverage familiar Android and iOS controls for time entry, enhancing learning and usability.
Optionally, the construction time card app can be configured to calculate the time worked (from the time clock in/out data) for a selected employee and guide the user to allocate the remaining balance to jobs and cost codes.
In addition to the standard smartphone format, our daily detailed timesheets provide iPad and Windows PC users with a familiar spreadsheet-style entry format.
Start Time and End Time Track time and record actual employee clock times when starting new jobs/cost code work, and PowerTrack will calculate the time duration for each work segment. Starting the next job or cost code will complete the previous work segment.
The only way to truly appreciate the capability of PowerTrack's construction time tracking app is to see it in a demo.