Construction Reporting and Analytics
Project data and insights at your fingertips
Unveil Valuable Insights to Effectively Manage Your Projects With Construction Analytics
Construction analytics is the systematic collection, analysis, and monitoring of data to enhance the outcomes of your capital projects, mitigate risks, and unveil valuable insights.
Leveraging real-time data and automated construction reports consolidated from mJobTime's daily reporting solution, construction analytics empowers stakeholders to make informed decisions and optimize project performance.
By harnessing the power of data, construction analytics facilitates improved project outcomes and a more efficient construction process.
Experience the Benefits of mJobtime's Analytics for Construction
Unlock the Full Potential of Construction Analytics to Drive Improved Business Outcomes
The construction industry is facing a number of challenges, including cost overruns, delays, and a lack of productivity, leading to significant financial losses.
In a sector where underestimating costs and misjudging variables that influence the final result can cause business disaster, it is essential to use data analytics to improve decision-making. By consolidating data, analyzing historical information, and utilizing predictive analytics, you can develop a comprehensive construction dashboard that provides the insights you need to succeed.
mJobTime provides a powerful construction analytics solution to help construction companies overcome their challenges and achieve their goals.
Construction Data Analytics
With the integration of Microsoft Power BI, mJobTime offers robust analytics capabilities that enable efficient data access. Whether you prefer pre-designed dashboards or customizable configurations tailored to your specific business requirements, our solution empowers you with the tools to effectively harness valuable insights.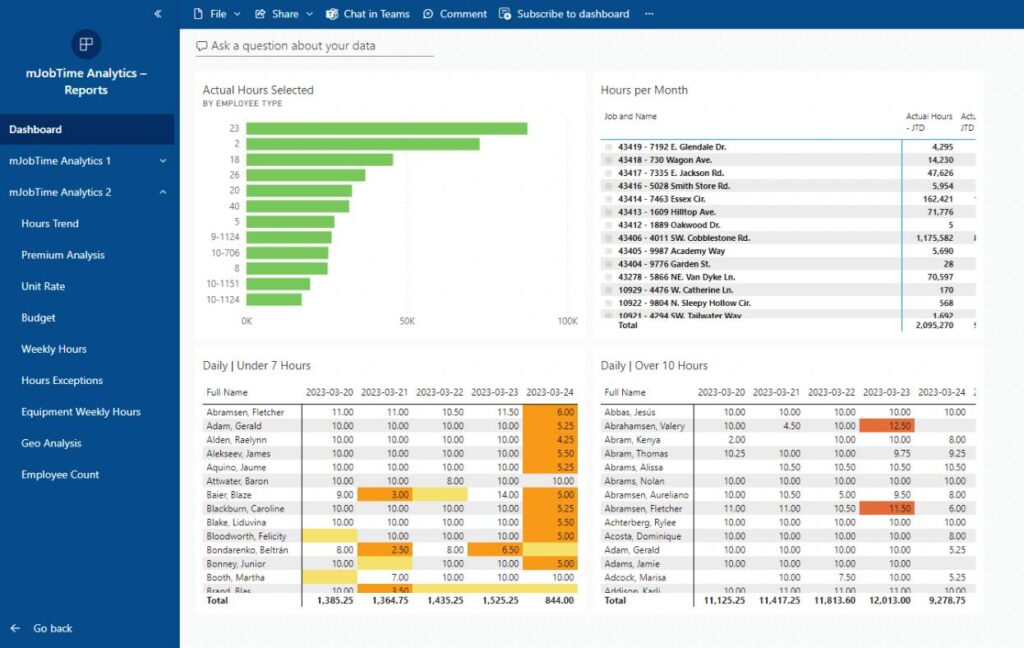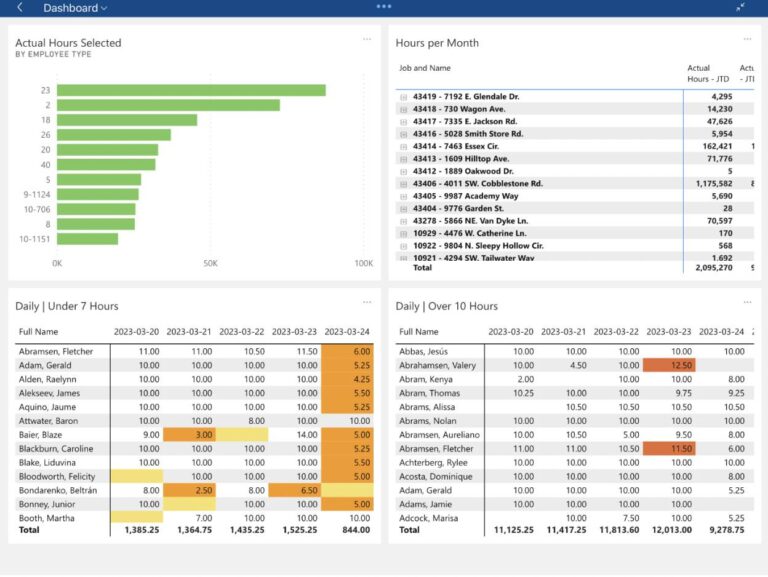 Real-Time Project Tracking
The project-oriented dashboards prioritize individual projects by providing comprehensive details and feedback on specific jobs. These dashboards allow for quick access to crucial information such as project, labor, and trend details, budget overviews, and more. mJobTime Analytics takes advantage of the powerful filters included with PowerBI to slice and dice your data.
Customized Multi-Level Reporting
Utilize the robust hierarchical structure of mJobTime's analytics to access project data at any level. Easily roll up individual project data to gain insights from multi-level dashboards and reports, or drill down into specific views to analyze project-specific costs and process data in detail. With our platform, you have the flexibility to explore data from various perspectives to make informed decisions.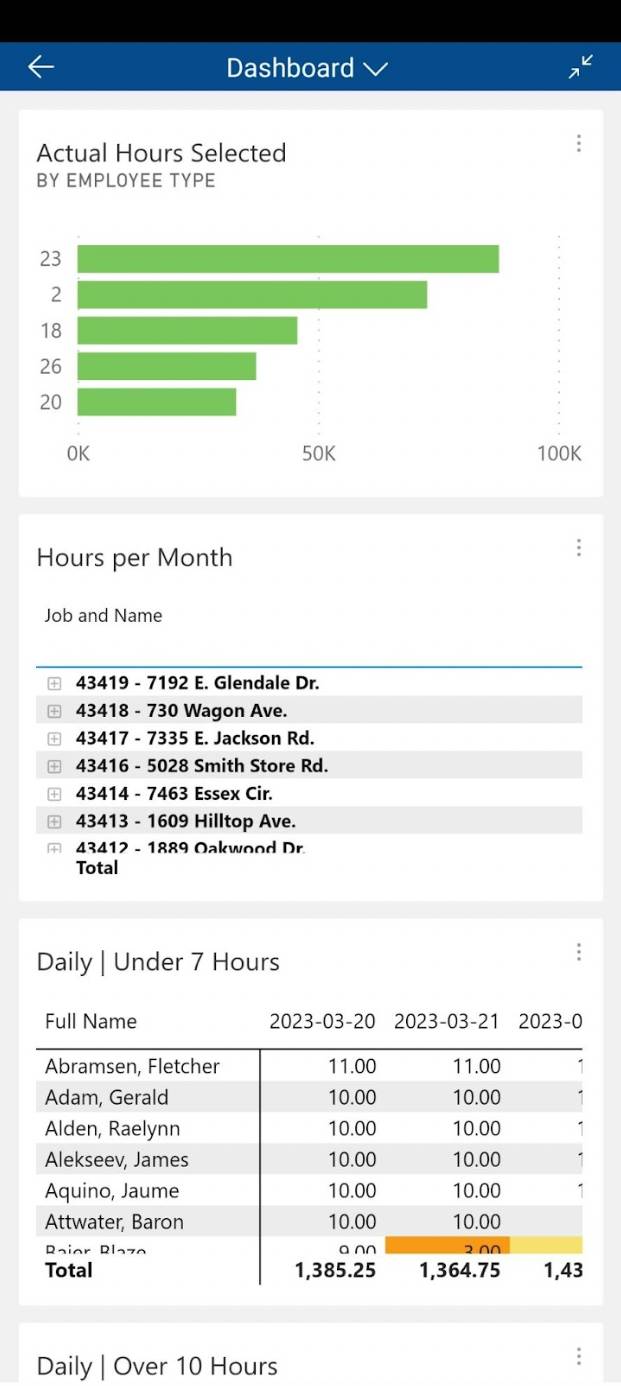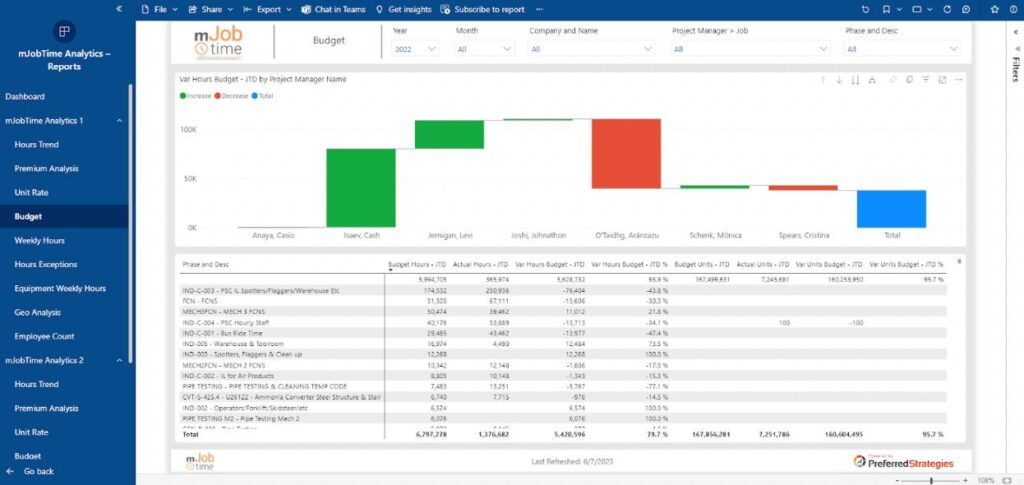 Data analytics can be used to track costs, identify areas where costs can be reduced, and ensure that projects stay on budget.
MJobTime Analytics is a powerful BI tool that can help businesses improve their decision-making, data visualization, and collaboration. The fact that it is available on any device makes it even more versatile and accessible.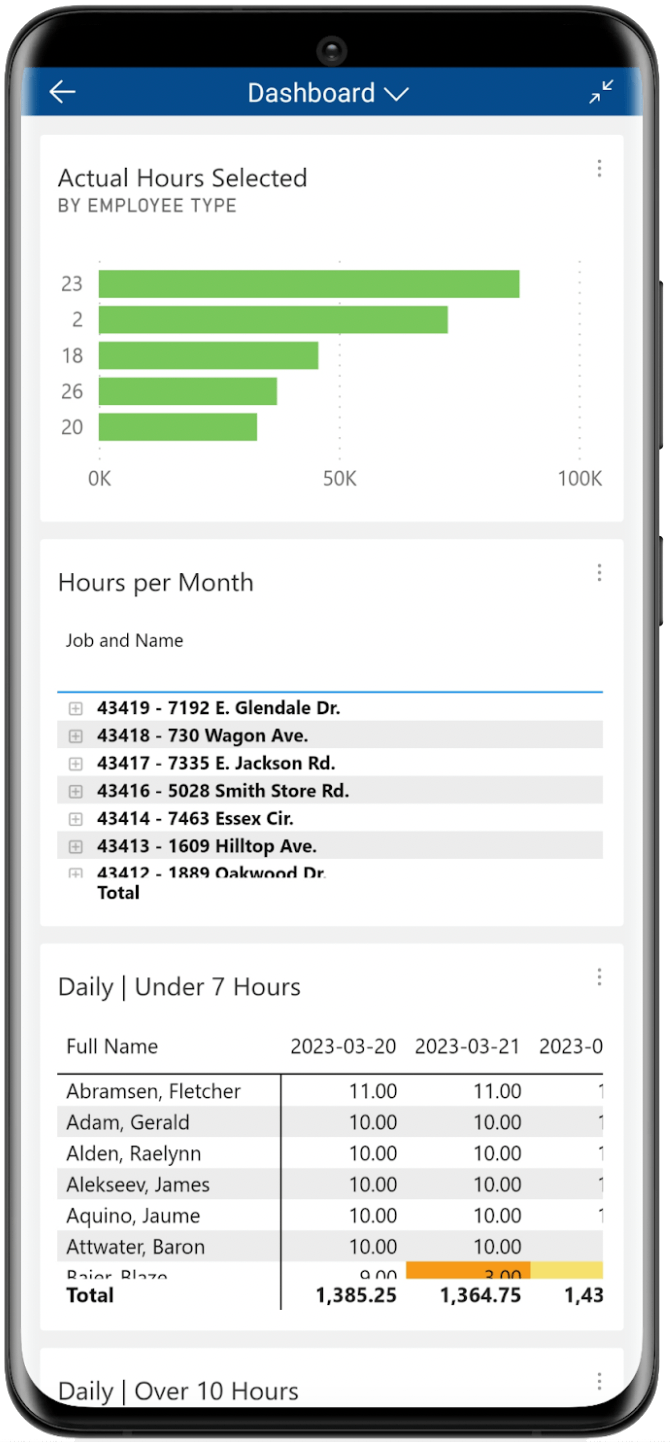 Testimonials

What Our Customers Say
"mJobTime is easy and efficient. My overall experience with mJobTime has been awesome. Their customer support team is always quick to respond to any issues."
"Easy to use. Tech support is the most responsive out of all the software I have used."
"Timekeeping Savior! Its flexibility to customize to exactly what we needed for our business."
"mJobTime Does the Job. Their service is outstanding, their response time is superlative."
"Great asset! Wonderful product and customer service staff. How easy it is to use, My employees were able to get the hang of how to use the product super quick."
"Best Timekeeping Software - integrated abilities. Customer Service is the best. Prompt and courteous."
"We like mJobTime! I love that mJobTime is user friendly. There are many ways to adjust the reports and screens to better fit your needs. We have some older employees that don't have a problem using the system and changing tasks throughout the day."
"Excellent product with an even better team behind it. Reduction in administrative time performing the payroll run. Their support for the product is very good. I like the ease of use of the product and the features it gives the administrator to use for sorting and reviewing time cards."
"Our experience with mJobTime has been a positive experience from Sales through Implementation. The use of this software has provided us with more accurate and timely hours reporting. In addition, the time it takes to process our weekly payroll was cut in half."
"mJobTime delivers the most customizable time tracking software available, and is paired with knowledgeable and very responsive team. I highly recommend mJobTime to anyone looking to take their company's time tracking to the next level."
How We've Supported Our Customers with Their Mobile Workforce Management Needs
At mJobTime, our mobile workforce management software has helped countless businesses improve efficiency, increase productivity and save time and money.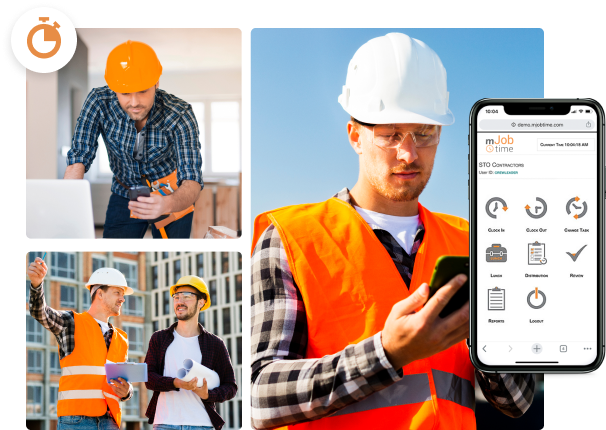 Mobile Time Tracking News and Tips

We're thrilled to share that mJobTime has been named a top-rated software solution in the newly released Software Advice's FrontRunners Report for Top Construction Management
Read More
mJobTime Construction Software
The mJobTime Mobility Suite software provides construction companies worldwide with the power and flexibility needed to track their most important field functions, assets, and inventory.
The only way to truly appreciate the capability of mJobTime's construction analytics software is to see it in a demo.