INDUSTRY-LEADING CONSTRUCTION WORKFORCE MANAGEMENT SOFTWARE
Streamlined mobile workforce management for the construction industry.
Customizable construction time tracking and mobile workforce management solutions purpose-built to tackle the complexities of managing construction field workers.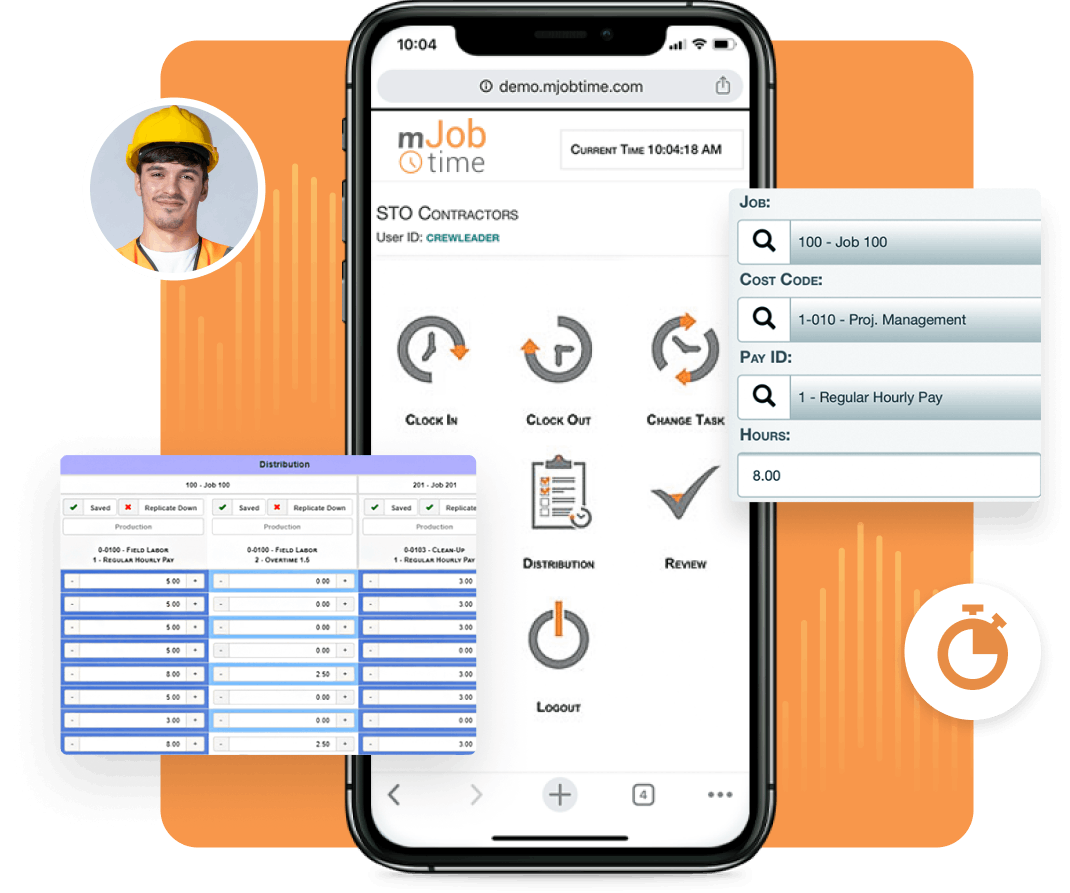 ANALYTICS

The Most Powerful Analytics Solution to Unlock Actionable Insights For Your Construction Projects.

TELEMATICS

The Most Advanced Solution for Managing the Equipment and Assets That Power Your Business.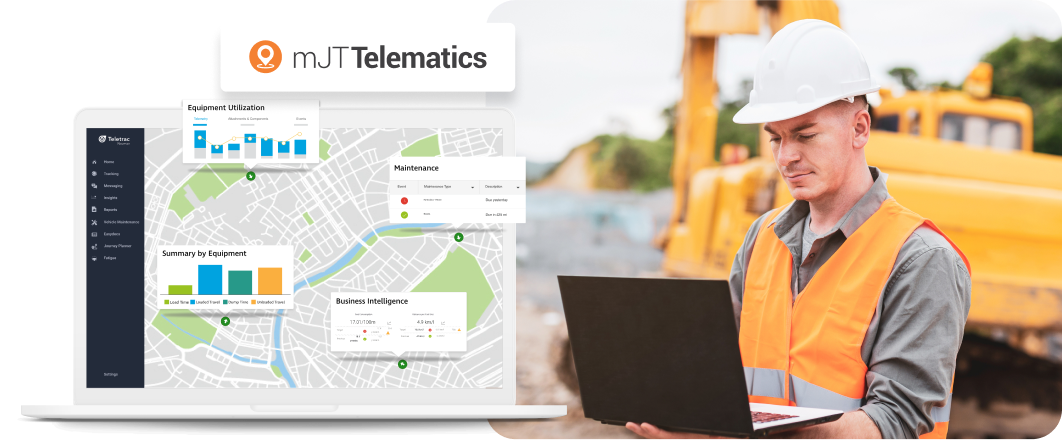 Best-in-Class Mobile Workforce Solutions to Help You Revolutionize Your Mobile Workforce Management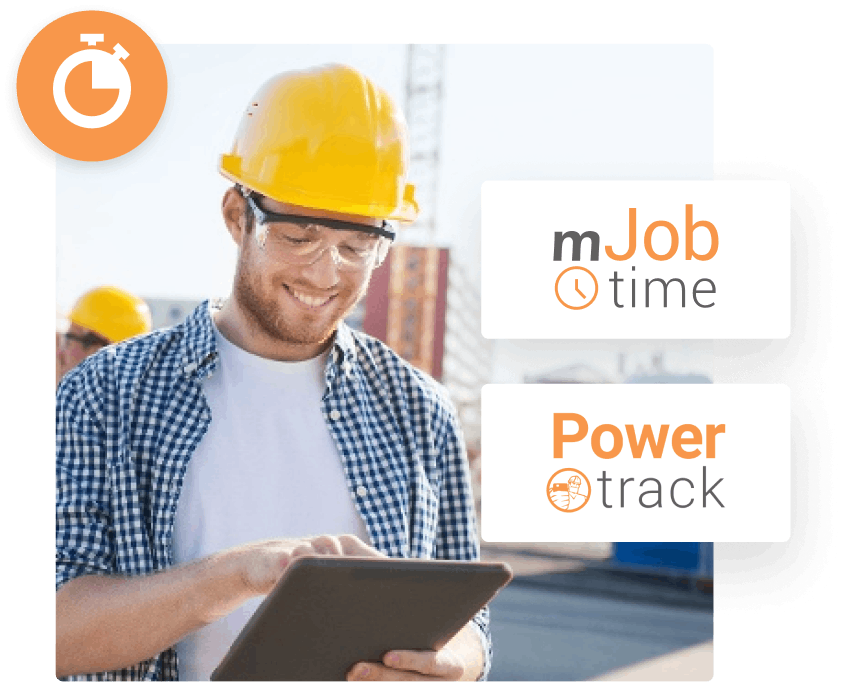 Say goodbye to paper timesheets and hello to mJobTime and PowerTrack.
Our award-winning mobile workforce management software solutions can empower your field employees to record job data and timesheet information from the field, while helping you:
Our highly configurable and flexible mobile workforce management software leads the pack in terms of capabilities and offers seamless integration to the ERP/Accounting systems you already know and love.
Testimonials

What Our Customers Say
"mJobTime is easy and efficient. My overall experience with mJobTime has been awesome. Their customer support team is always quick to respond to any issues."
"Easy to use. Tech support is the most responsive out of all the software I have used."
"Timekeeping Savior! Its flexibility to customize to exactly what we needed for our business."
"mJobTime Does the Job. Their service is outstanding, their response time is superlative."
"Great asset! Wonderful product and customer service staff. How easy it is to use, My employees were able to get the hang of how to use the product super quick."
"Best Timekeeping Software - integrated abilities. Customer Service is the best. Prompt and courteous."
"We like mJobTime! I love that mJobTime is user friendly. There are many ways to adjust the reports and screens to better fit your needs. We have some older employees that don't have a problem using the system and changing tasks throughout the day."
"Excellent product with an even better team behind it. Reduction in administrative time performing the payroll run. Their support for the product is very good. I like the ease of use of the product and the features it gives the administrator to use for sorting and reviewing time cards."
"Our experience with mJobTime has been a positive experience from Sales through Implementation. The use of this software has provided us with more accurate and timely hours reporting. In addition, the time it takes to process our weekly payroll was cut in half."
"mJobTime delivers the most customizable time tracking software available, and is paired with knowledgeable and very responsive team. I highly recommend mJobTime to anyone looking to take their company's time tracking to the next level."
mJobTime Saves Our Customers Thousands of Hours Each Year
Learn About mJobTime Now.
Products

About Our Mobile Workforce Management Products
About mJobTime

An Unmatched Mobile Workforce Management Solution for Construction Businesses
If you're looking to level up your mobile workforce timekeeping with the industry's best construction timesheet app and construction time clock solution, look no further — mJobTime is the gold standard.
mJobTime's construction time and attendance software offers tons of impressive features, mobile access, and relentless service to help you make the most of your field service management time. Choose this field service management software to take advantage of the most integrations and give your construction workers the ability to use the software solution both online in the office and offline in the field via a mobile device. The software is available via web or mobile apps, a system manager console, and standalone time clocks.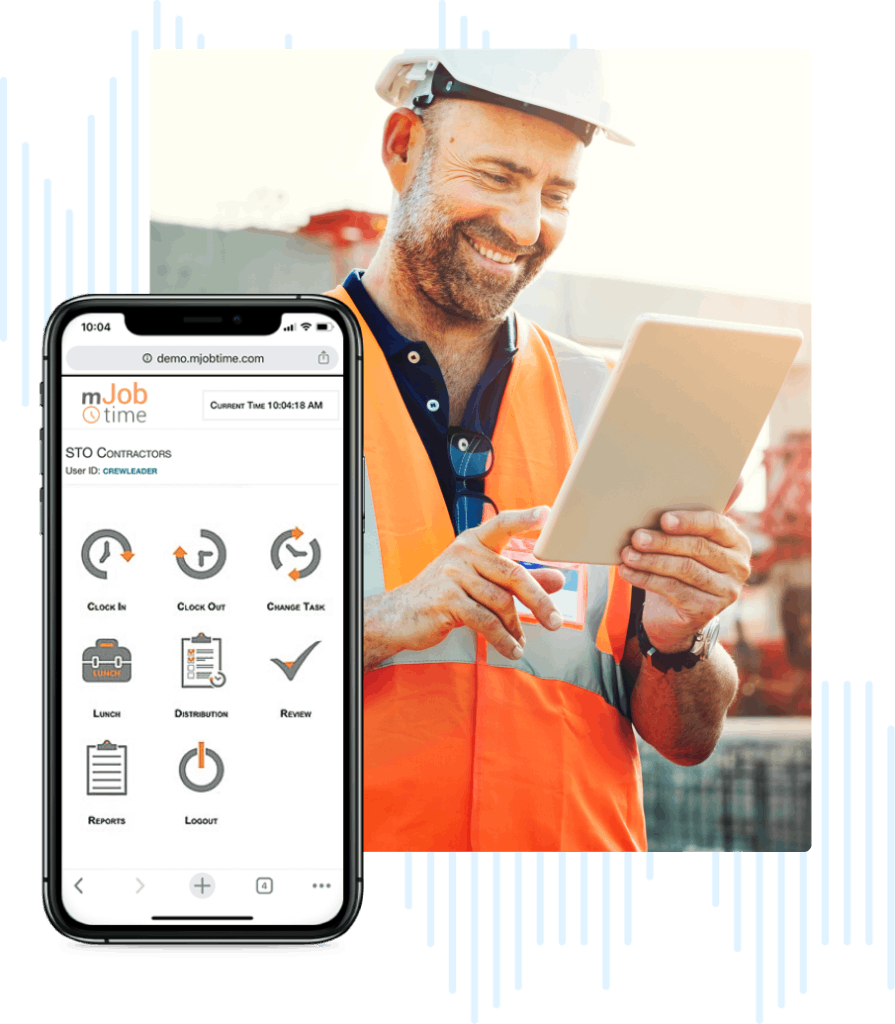 mJobTime's Industry-Leading Features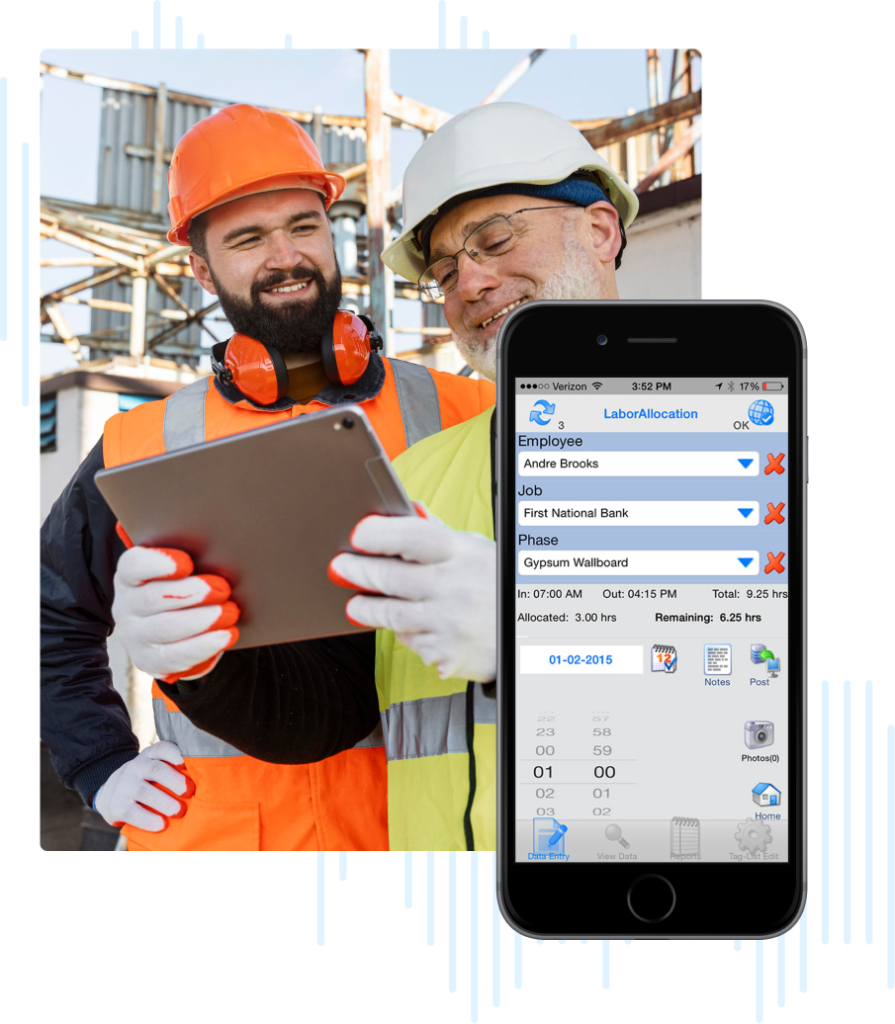 About PowerTrack

A Mobile Data Collection Solution for Companies with Unique Reporting Needs
When your reporting is unique, or you want an all-in-one solution, PowerTrack is the effective workforce management system you need. Take advantage of:
PowerTrack is a data collection tool for mobile construction workforce management that enables employee time entry, task management, tool and equipment tracking, detailed job site data collection, and note-taking for your mobile employees. This product supports popular Android and iOS mobile devices and web platforms, and the software can be configured to suit your unique business needs.
PowerTrack's Key Features
CASE STUDIES

How We've Supported Our Customers with Their Construction Workforce Management Needs
At mJobTime, our mobile workforce management software has helped countless businesses improve efficiency, increase efficiency and productivity, and save time and money.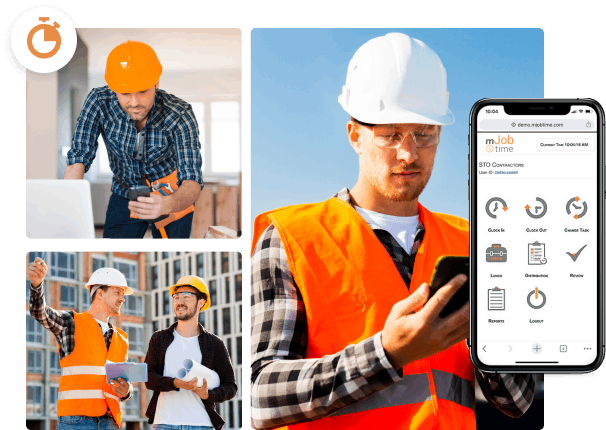 Partners

We're Proud to Partner with the Best
We partner with some of the most innovative companies in the construction space.
Put Our Proven Mobile Labor Management Solutions to Work for You
Contact us to learn more about our innovative timekeeping and mobile workforce management solutions and find out which product is right for you and your mobile workers, and schedule a demo today.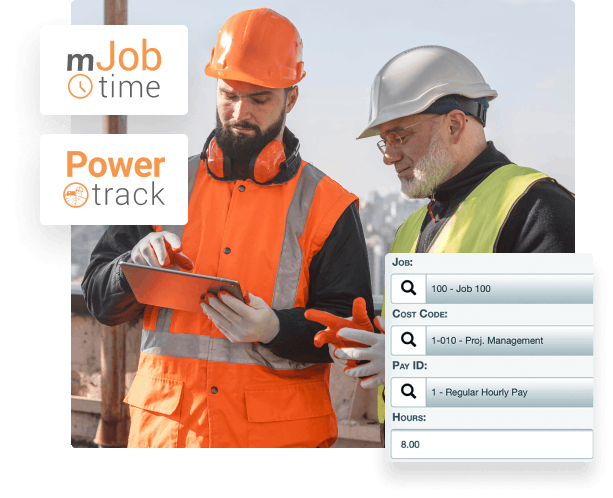 Frequently Asked Questions