Tools, Inventories & Equipment Barcoding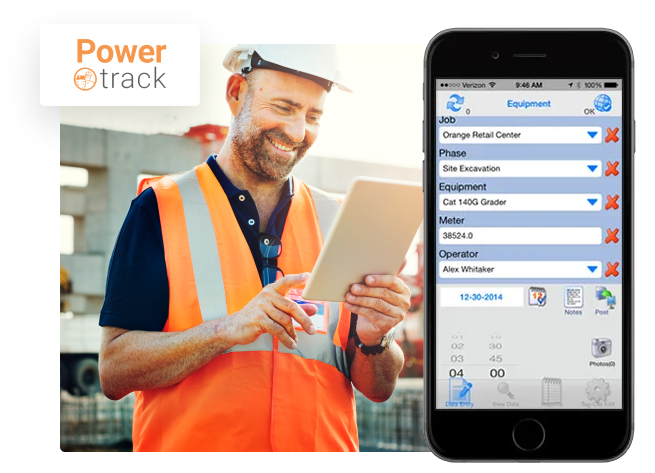 Barcoding Software for Equipment and Inventory Management
From our very first customer installation, the PowerTrack mobility solution has supported barcode data entry. Barcoding is becoming increasingly prevalent in the construction industry, as the necessity to track materials, tools or equipment becomes of greater importance. Our construction clients are using PowerTrack construction equipment barcoding tools for the following activities:
Barcoding can be extremely beneficial to an organization, and in many cases is required to assure an accurate tracking system.
Benefits Of a Barcode System
The occurrence of errors for manually entered data is significantly higher than that of barcodes. A typical error rate for keyboard entry is 1 error per 100 characters. In contrast, barcode entry substitution rates are 1 error per 3,000,000 characters and better.
A barcode scanner is fast and reliable and takes far less time than key entering data. A barcode label of twelve characters can be scanned in the time it takes to enter one or two characters on a touchscreen.
Precisely because it is quick, easy and reliable, a barcode system becomes essential for data integrity. Inventory or tool tracking systems require a scan for all item movements. If the tracking mechanism (writing or key entry) is too laborious, it simply does not happen, rendering the system useless.
Elements Of A Barcoding System
There are several different barcode standards, called symbologies, which differ primarily by the type and amount of data that they can represent. These symbologies are either linear or 2 dimensional, with the 2D codes holding much more data. We will recommend an appropriate symbology as required by the data to be encoded.
Many factors go into the label specification, which encompasses the label material type (paper v. synthetic), adhesive, dimensions and any pre-printed information. These factors include the length of time the label must survive, environmental conditions, dimension requirements, required barcode and human readable data, type of surface that the label needs to adhere to, etc. We will recommend a label material, size and adhesive combination that is best for your particular circumstances.
We are an authorized partner for the major barcode printer manufacturers, including Zebra Technologies, Intermec, and Sato. We will select the right printer and accessories for your application based on your printing requirements. This will primarily be based on the type and quantity of labels that you will be printing.
Your choice of barcode reader depends on your applications within the construction industry:
It is important to make sure that your solution provider has the expertise to design a barcode solution that is right for your application. In addition, your provider will need to have the expertise in integrating with your ERP/Accounting systems so that collected data can be validated and properly imported back to the system to update your material, tool and/or equipment data. The PowerTrack team at POSDATA is the total solutions provider with the experience that you can trust for your barcoding project.
The only way to truly appreciate the capability of PowerTrack's construction equipment barcoding software is to see it in a demo.