Labor Manager: Construction Timesheet Software
Construction Time Tracking Software
We offer multiple methods to enter and track time with our mobile construction time tracking app for construction workers. Employee time tracking for construction companies just got simpler.
Enter daily or weekly time
Enter employee hours and break minutes
Enter start/stop times
Track important information on and off the construction or job site.
Job
Phase/Extra
Cost Code
Pay code
Other
In addition to our mobile timesheet for construction workers, our Employee Portal allows construction workers to review completed work hours with ease. Employees can access labor time tracking information on their personal mobile device!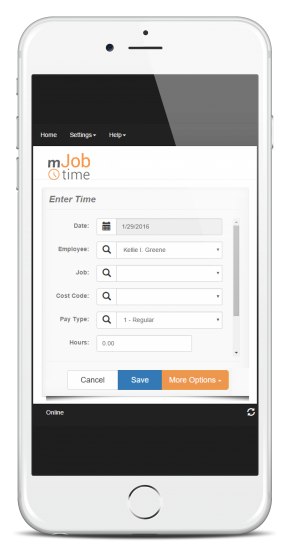 mJobTime Construction Timesheet Software Features
Schedule Your Construction Time Tracking Software Demo Today
The only way to truly appreciate the capability of mJobTime construction timesheet software for your construction business is to see it in a demo.